TIGERBALM
A silent movie live on stage.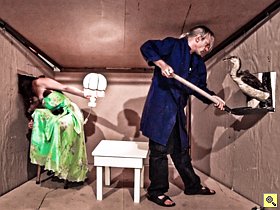 A small room, a box, a set.
Tableaux, exotic objects, a foley artist.
Juices, furs, attitudes.
A map, tools, filmmusic.
Gaffer, focus, insight.
Desires in a frame.
Developed by:
David Ender, Anne Frütel, Miguel Ángel Gaspar, Miki Malör, Gerda Schorsch, Red White
Director, music:
Miguel Ángel Gaspar
Foley artist:
David Ender
Stage design:
Red White
Public relations:
SKYunlimited
Technical support:
Helen Farnik
Web:
Franz Ablinger
Graphic design:
rob.drapela
Trailer:
Eva Hausberger
Subsidized by:
Kulturabteilung der Stadt Wien, bm:ukk
Time, place:
November 5th to 15th, 2008
KosmosTheater, Vienna
Attention: Bonus!
Carpa Theater invaded the stage as part of its improvisation series "squatting" following the performance on November 7th and 14th.
---
For years Miki Malör has been working at representing the functioning of the subconscious with performative means. A subconscious which she, as opposed to Freudian interpretation, does not want to interpret deprecatively; rather, it forms the actual source of all life in its creative search for enjoyment. After her works "Desire As The Will To Be Trapped" (a solo of tableaux) and "The Lady Who Ate 100 Cakes" (a duo with two territories) now a sextet: A workshop, chaotic, over the top, eclectic, which continously crosses, feeds, irritates and inspires its centre, a room-like box with a woman in it. Moreover, accompanied (or guided) by manipulative film music and opulent sounds, a set of dream-like images of the (female?) self is created.
We love film for its ability of being nearer to the deep inner being in imagery than the dubious language. We love theatre as a media of risk, with its possibilities of the haptic, the olfactory, and its mutual presence. How do we reach the depths of dreamful self-reflexion? Without the magic scope of closeup, dyschrony and montage, but instead equipped with immediacy, which we experience as reality—something approaching the metaphor of reality inaccessible to us. In the cinema, the maelstrom: darkness, being thrown back on oneself, each one a diver in the kelp forests of the subconscious. Im the theatre, the thrill: two stages, that of the audience and that of the performers; in order to fulfill magic and to achieve self-forgetfulness, the set is needed which creates the dream. For us, the only form of presentation on the stage is foremost that of doing—no forgery, no "representation". But in the middle of doing it hesitates, and the animals from the deep remind us that in reality we are completely different. Passages between inside/tableau and outside/workshop. Two states: doing and enjoying. (Are there other possibilities of being? Is it two states at all?) We will not give you what you desire, we're telling you how you should desire. We're finding reality in fiction and vice versa. We like being haunted by alternative versions of ourselves, unfulfilled reality and the role of fiction. We always only talk about ourselves. We're building a set in order to find our wishing machine in it—will we notice that by that, it is already growing and fulfilling itself? (translation: David Ender)
---

Public relations text (german) Press photos
---
---