HYSTERIA!
A Subversive Practice by Miki Malör
Six people in six rotating chambers.
A vibration. Disorder. A lot of fun.
Hysteria means:
fake, demonstrative, dishonest, theatrical, emotional, exaggerated, unobjective, possessed, egocentric, craving attention, childish, immature, dissatisfied, sensitive, creative, imaginative and lively.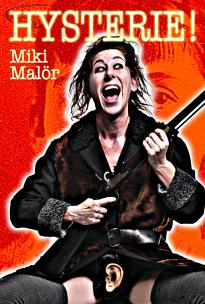 Hysteria is revolutionary.
Hysteria confuses norms and laws. It creates disorder.
Hysteria is an unconscious staging.
Our drama is conscious hysteria.
Maybe there isn't any hysteria at all.
Six chambers are putting up resistance.
Full of virtuosity, courage and liveliness.
A lot of fun.

Observe our pleasurable antics at close proximity.
Watch six people acting simultaneously in six chambers.
The performance spans from the stigmatized nun, Emmerich, to Augustine
, the star patient in Charcot's lunatic assylum. Experience a fun girl in p!nk, digest the daily news madness with us, and leave romantic love behind you. The shaman will take care of your intellectual healing, and the female sex remains an unreasonable demand.
Six actors and actresses from the fields of dance, drama and performing arts have created six hysterical chambers.

A kaleidoscope from the 'great hysterical fit' to the madness of the daily news, from the healing hysterical ecstasy of a shaman, the convulsive syncopation of a fashion junkie, and genital panic to religious delirium—the expression of hysteria always says something about the compulsions and limitations of society.
We are rotating.
Johannes Hoffmann, Maria Klupp and Stephan Schwarz have created a kaleidoscope, a wishing machine of presentations. Six chambers are joined together in the form of a star with sharply pointed tips. Doors. Hatchways. Escape routes.
On the upper level, during our teatime breaks, we will be shouting out our favorite songs for you.
A team from the fields of sculpture, fine arts, photography and architecture has designed rooms in a room.
A huge star on wheels facilitate the audience's intimate proximity to the performer, and reflect early symptomatology, the big, territorial, experimental, magical machine of the hysteria of Salpêtrière. An iconography.
Gulp down our text collage from Freud and Baudelaire to Christina von Braun and Slavoj Žižek, and drown yourselves in the music by Genius Blakk, Tibetan monks and Salieri colorature.
The opposite pole of the hysterical paroxysms (medical prose for orgasms) is a densely woven text collage including statements by:
Augustine, Christina von Braun, Igor Caruso, Jean-Martin Charcot, Georges Didi-Huberman, Dora, Hans Peter Duerr, Anne Catherine Emmerich, Sigmund Freud, Egon Friedell, Hugo von Hoffmansthal, Lucien Israël, Alexander Kluge, the Lassie Singers, Cäcilie M., Stavros Mentzos, Anna O., Hazreti Rumi, Slavoj Žižek, et al.
Enjoy our passions, which could become yours.
A declaration of love for desire.
Hysteria is not a pathological phenomenon and can be considered the most highly expressive possibility in every sense.
Luis Aragon, André Breton50th aniversary of Hysteria.
La révolution surréaliste, 1918
… the first step towards subversion is precisely to reintroduce this hysterical doubt.
Hysteria, or neurosis in general is always a position of questioning.
Slavoj ŽižekHysteria and Cyberspace
Ulrich Gutmair and Chris Flor: Interview with Slavoj Žižek
Oct. 07, 1998
http://www.heise.de/tp/r4/artikel/2/2491/1.html
Hysteria challenges the audiences' desire; it sanctifies their power and challenges it.
Lucien IsraëlL' hystérique, le sexe et le médecin (1976)
I am going to have a fit now. Feel my pulse. I will be dead in a few minutes.
Anne Catherine Emmerichin German: Peter Groth
Anna Katharina Emmerick 1774-1824
http://www.in-output.de/AKE/akehyst.html
Directors:
Miki Malör; Miguel Ángel Gaspar
Actors:
Miguel Ángel Gaspar, Monika Giller, Nicole Kolisch, Miki Malör, Gerda Schorsch, Ingeborg Schwab
Stage:
Johannes Hoffmann, Maria Klupp, Stephan Schwarz
Costumes:
Anja Lerch
Lighting Design:
Albert Haderer
Stage Manager:
Stefan Novak
Public Relations:
Gaby Müller-Klomfar, Michaela Benovic-Fellner
Graphics:
FOX medialab, Andreas Rathmanner
Photos:
Johannes Zinner
Documentation, Network Management:
Helmut Schütz
Learned Circle:
Hagnot Elischka, Barbara Klein, Jörg Liebscher, Franz Neovalis Neulinger, Herbert Preyer-Bayer, Maxie Schiesswohl, Martina Spitzer, Sepp Zaunegger
Time, Place:
14th Sept. – 2nd Oct. 2004
KosmosTheater, Vienna
By the way:
No one has ever thought of compressing the testicles in order to prevent hysterical fits—analogue to the method of ovarian compression in the case of hysterical women.
A Self-Production by the KosmosTheater


3:22min Video in Apple's Quicktime Format (6.5MB)



Video by kulturvision
---
---