national

ANTHEMS

Presented by Miki Malör
in cooperation with the Art-Technology-Philosophy Group monochrom
and the choir Chor der GegenstimmenViktoria Anreiter, Manfred Benesch, Angelika Beranek, Andrea Birbaumer, Christian Cech, Irmi Egger, Tim Fischer-Antze, Hans Hornbostel, Martina Hübl, Martina Knopp, Eva Koch, Christian Kornherr, Elisabeth Köstler, Nikolaus Kurz, Elisabeth Löffler, Doris Lutz, Claudia Mitscha-Eibl, Guido Moczarski, Gerald Muther, Sylvia Öhlinger, Josefa Pichler, Wolfgang Radeczki, Christoph Reichel, Billy Reidl, Andreas Riedl, Alarich Riß, Christa Schmid, Elisabeth Schwaiger, Dani Siuka, Sibylle Starkbaum, Lydia Strobl, Gregor Weißenbacher
Directed by Miguel Ángel Gaspar
Musical direction Erke Duit

A musical journey. The whole world from A–Z, as seen according to their national anthems.
For a better understanding of the Austrian identity.
A patriotic contribution towards the Austrian Year of Commemoration 2005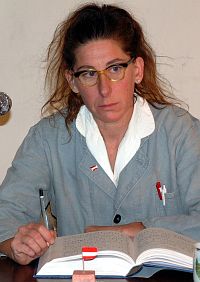 Dear Austrians,
Nations and the nation-states built upon them are a historical invention.
An invention of the bourgeoisie.
Invented by it for the purpose of enforcing its own political and economic interests.
And the same goes for you, dear Austrians:
Invented for the purpose of enforcing political and economic interests.
Get the feel of that.
Sing along with us!
A play for a performing artist, a choir, a Viennese electronic DJ, and a pop culturalist.
---
Performance:
Miki Malör
Choir:
Gegenstimmen
Art-Technology-Philosophy Group:
monochrom
Johannes Grenzfurthner, Harald Homolka-List (References, wording)
Frank Apunkt Schneider (Text)
Eva Hausberger (Visuals)
Franky Ablinger, Evelyn Fürlinger (Data and coordination)
Concept:
Miki Malör
Directed by:
Miguel Ángel Gaspar
Musical direction & choral adaptation:
Erke Duit
Assistance:
Gerda Schorsch
Lighting design:
Edgar Aichinger
Light, sound:
Andrea Korosec, Ewald Marischka
Photos:
Johannes Kittel
Internet & research:
Helmut Schütz
Thanks to:
Hagnot Elischka
Subsidized by:
Kulturabteilung der Stadt Wien MA 7
Time, Place:
6th–17th September 2005
dietheater Künstlerhaus, Vienna

---
---
---
| | |
| --- | --- |
| Antigua and Barbuda [1:10 1.0MB] | |
| Azerbaijan [2:24 2.1MB] | |
| Bangladesh [1:25 1.3MB] | |
| Bolivia, Brazil, Mexico, Venezuela, Uruguay [2:42 2.4MB] | |
| Bulgaria [1:52 1.9MB] | |
| China [0:49 0.8MB] | |
| Fiji [0:27 0.5MB] | |
| Gambia [3:01 3.1MB] | |
| Ireland [1:04 1.0MB] | |
| Israel [1:42 1.9MB] | |
| Jamaica [1:46 1.7MB] | |
| Japan [0:54 1.0MB] | |
| Cambodia [0:22 0.4MB] | |
| Kenya [1:59 1.7MB] | |
| Liberia [1:24 1.3MB] | |
| Libya [1:22 1.2MB] | |
| Morocco [1:41 1.5MB] | |
| Mauretania [1:55 1.7MB] | |
| Netherlands [0:34 0.6MB] | |
| Philippines [1:02 1.0MB] | |
| Poland [2:18 2.2MB] | |
| Russia [2:40 2.4MB] | |
| Solomon Islands, Samoa [2:08 2.2MB] | |
| Sweden [0:56 0.8MB] | |
| Switzerland [4:09 3.8MB] | |
| Senegal [1:15 1.2MB] | |
| Sierra Leone [0:42 0.7MB] | |
| Slovakia [1:00 1.0MB] | |
| South Africa [2:46 2.7MB] | |
| Ukraine [1:21 1.4MB] | |
| Hungary [2:05 1.9MB] | |
| Vanuatu [0:42 0.6MB] | |
| Austria [1:12 1.2MB] | |
---