DESIRE AS THE WILL TO BE TRAPPED
NOISE 1–14
intensified
A woman and a secret in the surreal rooms of desire.
The woman is doing intimate and secretive things.
She is using butter, pubic hair, money and scents.
Rituals. Absurd pictures. Daily routines.
Her actions are completely natural.
Her actions do not make any sense at all.
The narrative remains a subtext.
Surrealism creates rooms for individual moments of suspicion.
When wishing still would have been a help.
The subject is oscillating between the hope of complete fulfillment and the experience of lacking something.
Because the subject is not entirely satisfied by the object, an unfulfilled spot remains, a sign of indestructible desire. In terms of satisfaction, this means there is an irreconcilable difference between the subject and the object—the basis of every untamed passion, which surpasses anything that is possible between animals.
Instead of taking action, the subjects articulate their desire. The symbolical order thus achieves an instance, which makes human life possible.
An homage to Jacques LacanPeter Widmer,
Subversion des Begehrens (german 1997)
"Based on Lacanian analysis, including terms such as 'désir,' 'besoin' and 'demande,' the classical psychoanalytical transfer of desire succeeded easily in performance.
In the hot pools of unfulfilled arousal, Miki Malör wriggles between butter and iron with breath-taking humor."
Helmut PloebstBallettanz (March 2003)
---
3:00min Video in Windows Media 9 Format (left: 6.4MB Highspeed, right: 1.1MB Modem)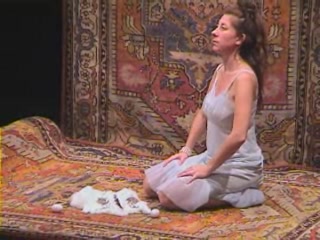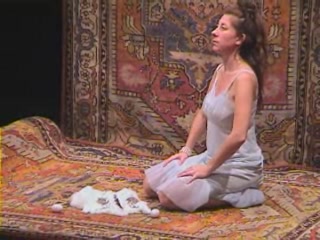 For a full screen image, please press the keys [Alt]-[Enter] while the video is activated;
and to return to the normal size, press the key [Esc].