THE LOVE OF MAGGOTS
Cleansing. Skinning. Dialogue.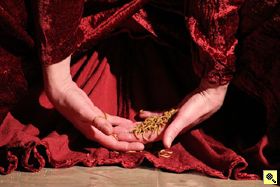 A family of animals consisting of innumerable individuals meets the body of a performer.
A performer radically avails herself to numerous animals. She serves as surface, playground, writing material, utility.
Tenderness, caresses, dedication instead of disgust and defence.
Part 1 of the Performance Cycle "SWARMS"; seven works at the interface between miniature drama, performance and installation.
Live art for museums, galleries, exhibitions, festivals and selected sites.
Next part in progress: THE LOVE OF FLIES.
Performance:
Valerie Kattenfeld, Miki Malör, Cynthia Schwertsik
Director, sounds:
Miguel Ángel Gaspar
Set:
Cynthia Schwertsik
Video-artist:
Eva Hausberger
Support:
Markus Lettner, Florian Pfaffenberger, Anja Lerch, Claudia Mader, Red White, Kristine Tornquist, Jakob Scheid, et al.
Public relations:
SKYunlimited
Graphic design:
rob.drapela
Subsidized by:
Kulturabteilung der Stadt Wien
Hosted by:
monochrom
Time, place:
May 19th to 21st, 2010
daily 6:00 p.m.
Museumsquartier Wien, Raum D / quartier21
Museumsplatz 1

location map Raum D at Museumsquartier Wien
---

Public relations text Press photos

Flyer
---