Miki Malör's
100 Objects to Represent Theatre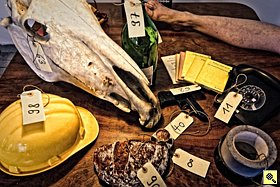 A list as theatre piece.
A game. A panopticum.
A dance of things.
Formal. Theoretical. Meticulous.
Ironic. Emotional. Funny.
Extensive.
An inventory of contemporary stage presentation, a work about semiotic levels of meaning, a reflection about miscellaneous aesthetic approaches, and not least a very personal show of the Malörian object universe.
100 objects act up.
Which objects would you have chosen?
Developed by:
David Ender, Anne Frütel, Miguel Ángel Gaspar, Miki Malör, Gerda Schorsch, Red White
Director, music:
Miguel Ángel Gaspar
Video installation:
Eva Hausberger, Helmut Schütz
Graphics:
Franz Ablinger
Public relations:
SKYunlimited
Subsidized by:
Kulturabteilung der Stadt Wien, bm:ukk
Time, place:
November 4th to 14th, 2009
daily 8:30 p.m. (except So/Mo)
KosmosTheater, Vienna
In the foyer:
On performance dates from 7 p.m.
On the occasion of her 25-year stage anniversary Miki Malör is showing all her works in a video installation.
Indulge yourself in memories!


---

Public relations text (german) Press photos
---
---